Product Use


Installation
1 . Double click Setup.exe after you completed downloading the client and all patches.
2 . According to the procedure to choose installation instructions path, the installation can be
completed.
3 . For cancellation of the installation, please click the button Cancel.
4 . The game can be fitted with the normal operation of DirectX 9.0, if your computer has not
installed DirectX 9.0 or the old version, Please continue to install DirectX 9.0 after
you completing the installation of the game. The website also provides a download of
DirectX 9.0 installation file.
5 . Please ensure your computer system has enough space to install this game.
System requirements
Minimum Configuration
Recommended Configuration
OS
Windows 98 / ME / 2000 / XP
CPU
Intel Pentium 31.4G
Intel Pentium 4 2.2G
Audio
Audio DirectX 9.0b compatible32M
Audio DirectX 9.0b compatible
Sound
Sound DirectX 9.0b compatible
Network
56K/Bps Modem
ADSL
Getting star
1 . Quick Start Information
If you are new to the game, we recommend you take advantage of the in-game help system. By clicking on the flashing exclamation mark icon that appears at the bottom center of your screen you can learn how to complete various actions such as starting quests, initiating combat, searching bodies, and training your character.
The game support 2 operation models both mouse and keyboard, you can choose one model you like before you start.
To move in the game world, use the arrow keys. You can adjust your character's view using your mouse.
If you encounter an object, monster, or character that you can interact with, a smart cursor will appear near your mouse pointer to indicate that you can do so.
To select an object, monster, or character, left-click it.
To interact with it, right-click it.
2 . Logging into the Game
Now you can enter the game and begin playing. Once you start the game, you will be prompted to read and agree to our Terms of Use Agreement and End User License Agreement. At the login screen, please enter the login and password that you chose when you created your account.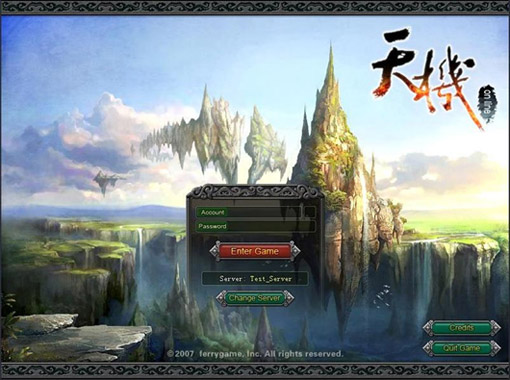 3 . Select Your Server
First you need to select your Server or realm. You will need to contact your friends and pick the same realm so that you can all play together; characters on different realms cannot play with each other.
Once you login, you can create a character for yourself by choosing your race, appearance, and class.
4 . Creating Your Character
Creating your character is very easy. Select your race, sex, and class. You can customize various aspects of your character.
Name: You will have to stay with this name for the rest of your playing career so make sure that you create a name that you can live with. Be aware of the naming policy so that you do not risk having to rename your character or other penalties.
Sex : Male or Female
Hairstyle
Face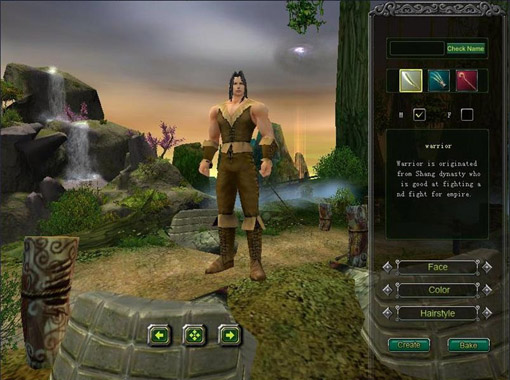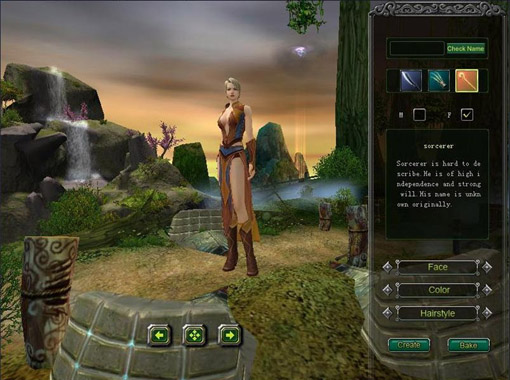 You can click the 'Create ' or ' Delete' button to create or delete the Characters. In the event that you die in game world, you will become a ghost and be transported to a nearby graveyard. You will have to run back to your corpse to revive yourself.